Making the most of Black Friday 2019
Black Friday weekend, followed by Cyber Monday, is one of the most profitable times for online retailers globally. With online sales increasing annually, even small e-commerce stores stand to make a considerable profit the weekend after Thanksgiving, all over the world.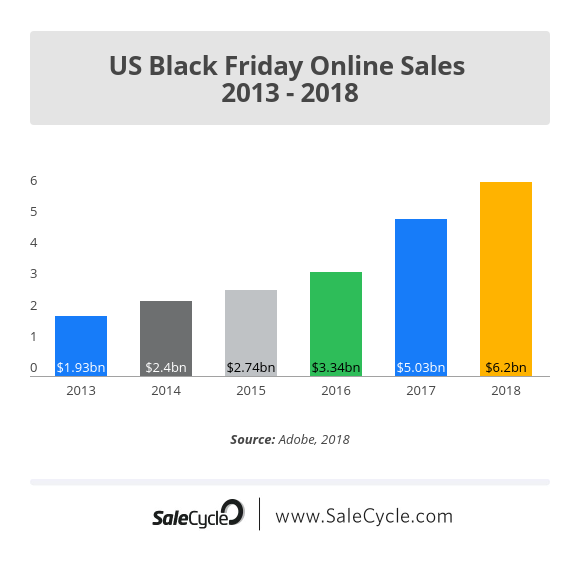 Black Friday wouldn't be the spectacle that it is without frenzied customers spilling into the streets outside brick and mortar stores, as well as online buyers flooding websites to the point of crashing just to get that coveted 50% off. How does an e-commerce store create that sense of urgency and frenzy among its customers when competitors are reducing their prices drastically, too? Competition is incredibly high around Black Friday weekend, so retailers need to be thoroughly prepared for November 29th this year.
Promotion and awareness
You can guarantee that your competitors will be planning for Black Friday. If everyone's got a shiny new deal to offer, how do you get yours to stand out and drum up awareness?
Out of the multitude of stores to choose from, your store needs to be top of mind when your customers begin the big shop. Of course, you don't want to spam any inboxes, but customers are going to expect a lot of advertisements and emails around this time from a number of stores. Many retailers will scale up their ads drastically up to a month before November 29th, so you'll need to have your digital marketing plan set well in advance.
Create a little excitement and mystique by advertising "Exclusive Black Friday Deals" long before November 29th to select customers and follow-up with regular reminders. This will entice shoppers and create anticipation.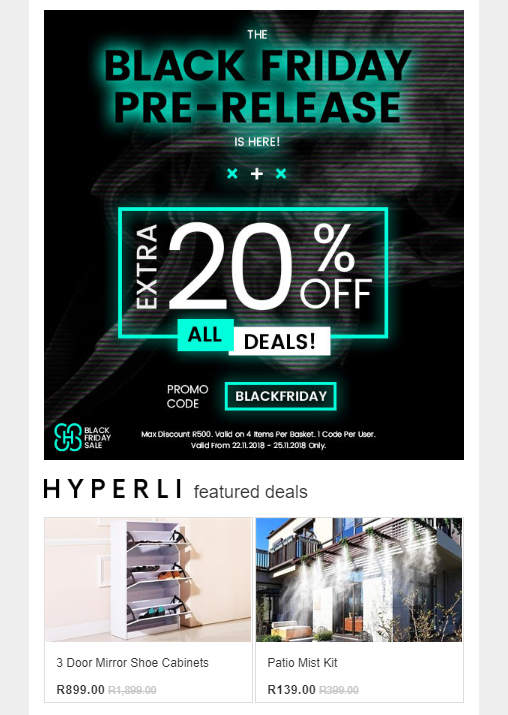 Retailers often use Black Friday as an excuse to attract new customers, but don't forget that your most profitable shoppers can be the ones who already have experience with you. Your existing customer base trusts you, thinks you're credible and has experience with your products, making them an easier sell especially at a time when shoppers are spoiled for choice. Now is a good time to reward customer loyalty and offer a targeted customer group exclusive Black Friday information. Pre-sale emails notifications will make your customers feel they're being treated exclusively. If they feel they're getting the scoop on deals the rest of the public are not privy to, they're likely to shop with you over your competitors. Offer them a free gift with purchase or notify them of individual products going on sale based on their buying history. Personalized recommendations combined with a feeling of special treatment is sure to make you money on Black Friday weekend and long after.
Remember, customers will be overloaded with Black Friday promotions, so every social media post, paid ad or email needs to get exposure to the right people at the right time. Think about posting on social media 2-3 times daily and timing your emails for the beginning of the work day, lunch time, and the end of the work day. Of course, your timing will be audience-specific and based on a thorough understanding of your target group's behaviour.
Keep your deals and offerings interesting to help you stand out among the mass of other Black Friday promos. You don't want to offer a blanket 50% off your products store-wide. With most ecommerce stores offering discount prices all through the weekend and the following Monday, you have the opportunity to give people an exciting new offer every, single day. There are a number of ways to do this:
Buy 1, get 1 free
Buy 2, get 30% off
Spend $50 or more and get a free gift
Free shipping on purchases of $100 or more
Do your research and learn what deals your customers respond to the best and how much they plan on spending. If you want to keep shoppers coming back to your online store, offer a Deal of the Hour. This will create a sense of urgency and curiosity that will earn you repeat business all weekend.
Tip: If your products are on other marketplaces, you'll need to review your feeds well in advance and ensure your product listings are eye-catching, up-to-date and targeting phrases that are common in searches around this season.
Black Friday is also an excellent opportunity to get rid of old stock and clear out your warehouse for new products!
Getting your website ready for action
There is nothing more frustrating to a customer than adding amazing products at a discount to a shopping cart that disappears at checkout- an annoyingly common occurrence on big sales days. Your website needs to have a simple user interface and mobile functionality to compete with other online stores. Credit card payments often fail on Black Friday due to high traffic, so ensure your store accepts other payment methods such as direct transfers. A second's delay in page loading speed could mean a user abandoning your page and not returning, so ensure your site is speedy and simple to navigate once Black Friday rolls around. Test your checkout process on multiple devices and ensure you validate your mobile APIs.
Your product categories are also important. It's incredibly frustrating for shoppers when they have to shop around to find the best deals. Create a collection or a category of promo items where all your deals are stored to make it simple for users to find what they're looking for. Add product recommendations to each product page and equip your landing page with attractive banners and offer pages to attract clicks. Add a countdown timer on your landing page to create urgency and let shoppers know the deals you're offering are time-sensitive.
You can prepare for site errors in your email strategy to account for any unforeseen technical issues. Notify customers that you're aware of the technical problems they're experiencing and are working on getting the site up and running again. In the event that your customer loses items in thier cart, it may be useful to have a reserve of limited stock items to ensure customers don't leave your site dissatisfied.
Tip: BigCommerce has a detailed guide on improving your site speed here.
Shipping and returns
If you kill it with sales this year, you're going to need to fulfill every single online order to be packaged and shipped to your buyers. You need to ensure that you have the resources in place to ensure an excellent customer experience right up to product use. We can't forget the basics of sales just because it's Black Friday weekend. Your product still has to look like it did on your glittering product page and it has to arrive on time and in perfect condition. If you sold more than ever, prepare your team to receive more returns than ever. This is an unavoidable part of doing business online, so make sure your distribution center and customer support team are prepared. Some retailers will decide to implement a no-returns policy on sale items, but this may scare people away from your site on the big day. You need to consider your clientele and the long-term effect that kind of decision will have on your brand image. Remember, business doesn't halt after Cyber Monday, and the real winners during this time are retailers who do well over Black Friday weekend and continue to sell to the same customers long after the frenzy has come and gone. If you're prepared to handle an increased number of returns, then allow certain sale items to be returned under reasonable conditions. At the end of the day, you want to make your customers happy and for them to know they made the right choice shopping with you.
Protect your margins!
If there's one thing customers love, it's free stuff. If some of the Black Friday deals you've opted for include a free gift or free shipping on purchases over a set amount, great! That'll get your customers coming back all weekend, but the last thing you want to do is lose money during a time with such high profit potential. With every sale you put in place, every deal, every offer, keep one thing in mind: Protect. Your. Margins.
It's crucial that you factor in the cost of anything 'free' in your sale price to ensure you're not bleeding money.
Know your products
There are certain products customers are more inclined to search for and purchase every last quarter with many customers doing their holiday shopping early. BlackFriday.com conducted a survey of 5000 U.S adults which found that the percentage of respondents shopping in each category will be as follows:
41% Clothing
38% Home goods / appliances
32% Laptops / televisions / tablets
30% Smart home gadgets & tech
25% Toys
12% Travel
You can check out other insights from the survey but remember to conduct your own thorough research as well. Of your existing products, find out which show interest peaks on Google trends and think about adding new potentially top sellers to your store just for the weekend.
Tech products historically do well over Black Friday because shoppers can take advantage of huge discounts, but retailers still benefit from high margins. You can explore Oberlo's product database to find products with a peak in sales over the last month that may be trending, and cross-check their popularity on Google Trends as well.
Think like a shopper. If you wanted to save money, how would you go about it? Let's take Apple products as an example. They're expensive and they become obsolete regularly. It would be foolish to discount a newly released iPhone model, but you can capitalize on the release by selling the previous model at a reduced price over Black Friday weekend and recommend related products that are still going at full-price. Shoppers will jump at the opportunity to purchase an expensive item for a fraction of the cost, and may opt to add related products like Airpods to their carts to meet the Free Delivery threshold.
Of course, different niche products perform well every year and retailers need to keep their ears to the ground to stay in the loop regarding trending products. Shapewear such as Spanx has shown a significant upwards trend of late, as well as the Amazon Echo Dot 2nd generation. Shopify has a list of 10 Trending Products to Sell in 2019 which you can check out here. Remember that Google Trends indicates search volume and not necessarily intent to buy, so make sure you research product sales as well.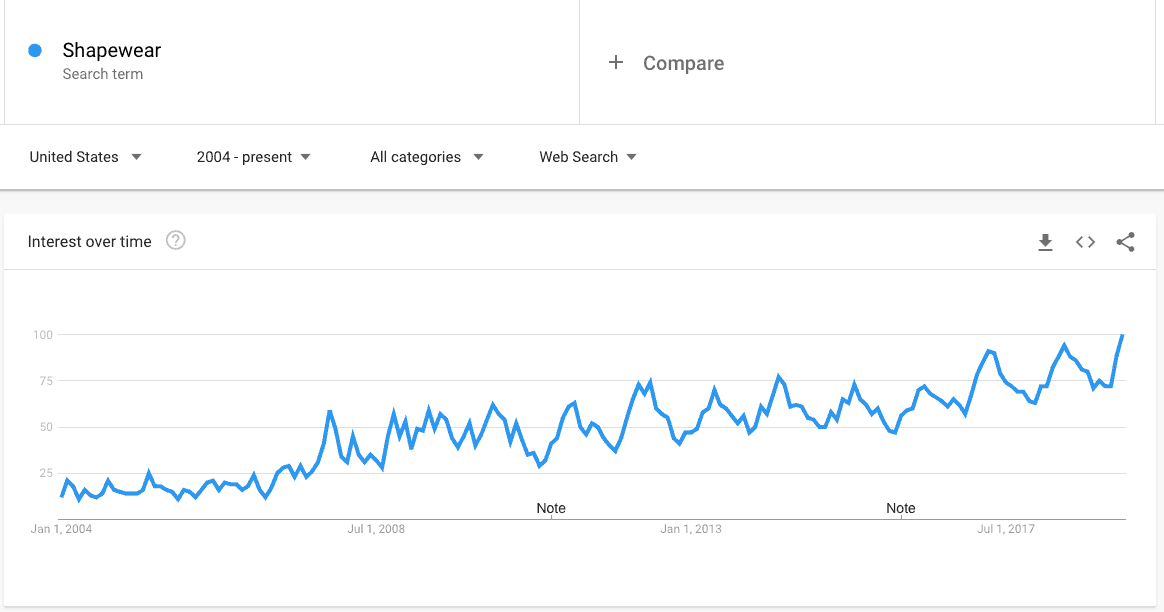 Product strategy aside, think about how much your customers plan to spend. What will they spend the most on? What are their deciding factors when choosing between similar products? When do they plan on doing their shopping and from what devices? The more insight you have on shopping behaviour from previous Black Fridays the better.
Your product data feeds need to be optimized to maximize conversions. It's a good idea to check your stock and update the availability attribute on your feeds multiple times a day. This will hep you avoid wasting ad spend on products that are out of stock and disappointing customers. Leverage custom labels in your shopping campaigns to focus marketing efforts on products with high margins, or simply to help you manage your campaigns better by grouping products based on sales performance or seasonality.
This can be a daunting time, especially for new retailers, but with the tips above and a focused approach to research and strategy, Black Friday may be your best sales weekend yet!